On the morning of September 14, Hurricane Florence made landfall near Wrightsville Beach, North Carolina, bringing with it record storm surge and torrential, historic amounts of rain. A week later, communities across the Carolinas are struggling with the aftermath. At least 42 people have lost their lives thus far. Heavy, lingering rainfall has caused rivers to rise for days after the storm, leading to catastrophic flooding including in inland areas. Here's what we know so far and what we can expect in the weeks and months to come.
Six things we know about hurricane Florence's impact so far:
1) Hurricane Florence is still a dangerous unfolding disaster. It's important the people in the Carolinas continue to pay close attention to warnings from state emergency management agencies and other local authorities and not return to flooded areas until they are deemed safe. Rivers are still rising and new areas can get flooded. The National Weather Service Newport/Morehead City warned that the Neuse River will likely not crest until this evening at the earliest. Water contamination is a real health so please follow the CDC's advice and heed local water advisories if you live in one of the affected areas.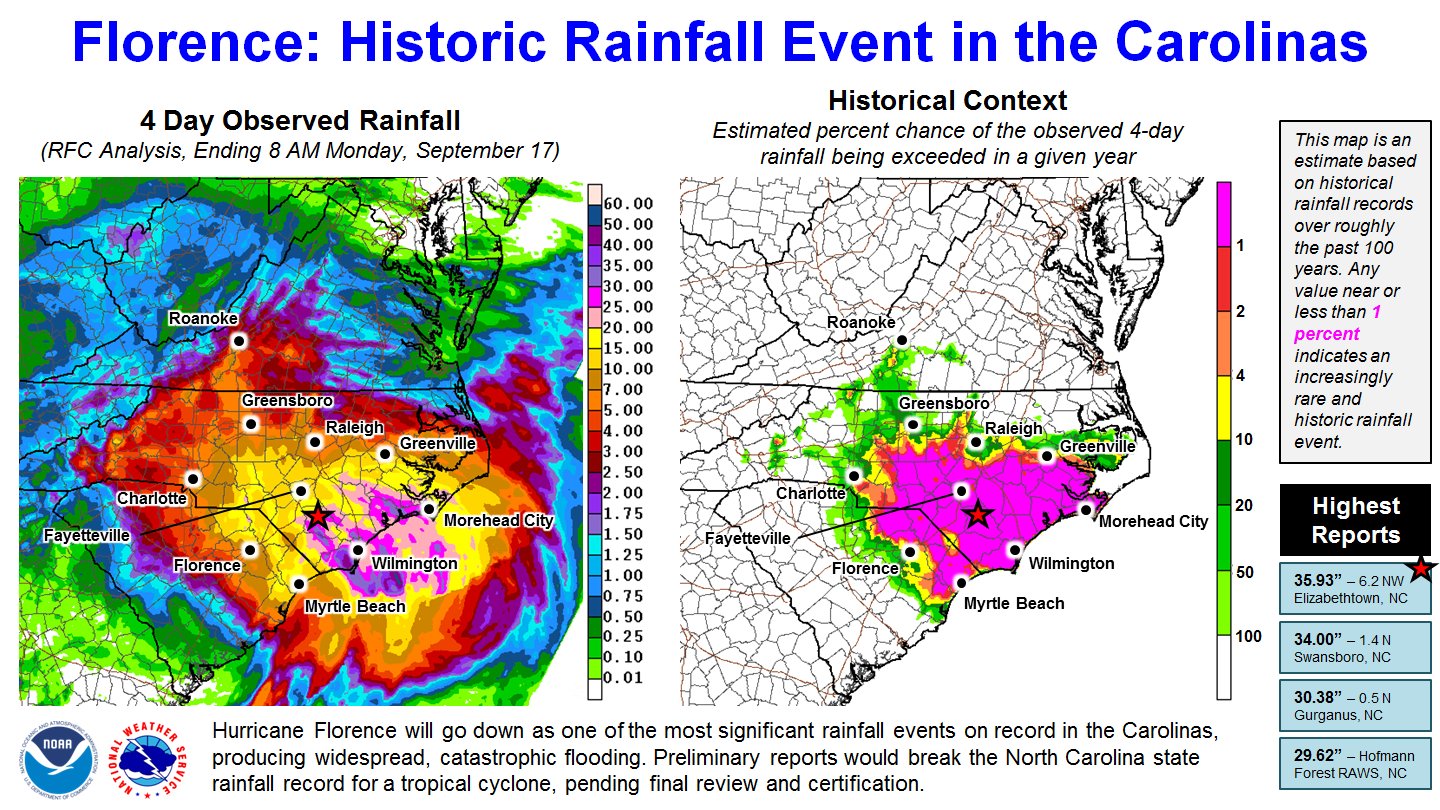 Source: NWSWPC
2) The advance projections for Hurricane Florence proved remarkably accurate and were very helpful in informing emergency preparedness and evacuation efforts. The National Hurricane Center was predicting for days that landfall would likely be along the North Carolina coast, and likely the southern part of the coastline. The forecast also made clear that the there would be record storm surge and this was borne out with tide gauges in Beaufort and Wilmington recording their highest-ever levels.
Most importantly, it was clear that one of the biggest dangers from Florence was that it would bring heavy rainfall and stall over the area for days, significantly raising flooding risks especially inland—a sad reality that many communities are now living through. Record rainfall was experienced in a number of places, including Elizabethtown, NC which saw 35.93 inches of rain and Marion, SC which saw 34 inches. Rivers are just cresting in many places, including Kinston, Lumberton, Fayetteville and Lumberton. Several rivers including the Cape Fear, Pee Dee, and Trent rivers, broke high water records. (Watch this dramatic and sobering visualization from the USGS of the flooding as Florence moved through North Carolina.)
3) Despite clear warnings about the risks of inland flooding, many people were still caught unawares or did not have the resources to evacuate, and in some cases that contributed to loss of life. Too many people thought the worst of the storm was over by the day after it hit—when that turned out to just the beginning of the flooding in many inland areas. Drivers ventured onto roads that looked dry but were quickly overwhelmed by flash flooding. Evacuation is costly and not everyone can afford it. Unfortunately, the data also show that far too few homeowners in the path of Florence—especially in inland areas— were carrying flood insurance, which could leave them struggling financially as they try to rebuild their lives.
4) Hurricane Florence is a very costly storm, likely to rank among the top ten most costly in the United States. Early estimates of the property damage costs of Florence from Moody's are in the $17 to 22 billion range, although that could rise. AIR Worldwide's initial estimate of the insured losses just from the wind and storm surge, without accounting for the heavy precipitation, ranges from $1.6 to $4.7 billion. These costs do not include the damage to infrastructure, including major highways (see this stunning drone footage of I-40 turned into a river, for example) or dams; or payouts from the National Flood Insurance Program.
5) Early fears about the risks of coal ash ponds leaking toxic wastes and hog lagoons flooding and contaminating waterways have become realities. Initial reports show that some of Duke Energy's coal ash ponds near the H.F. Lee coal plant have been breached, potentially contaminating the Neuse River near Goldsboro. A coal ash pond at the Sutton power plant near Wilmington has also been flooded, potentially contaminating the Sutton lake, a public lake. Meanwhile, the NC Department of Environmental Quality data show that over a hundred hog lagoons are either already discharging waste into waterways or are in danger of doing so. The Waterkeeper Alliance is tracking these hog lagoon and coal ash spills.
6) Low-income communities, communities of color, and rural communities have been particularly hard-hit by the flooding from Florence. News reports detail Florence's impacts on public housing; on livelihoods of hourly wage workers; and on the rural poor. Many communities that were affected by flooding from Hurricane Matthew two years ago have found themselves again in the midst of devastating flooding. In comments earlier this week, Governor Roy Cooper of North Carolina said, "One thing that this storm puts a spotlight on is the issue of affordable housing, which is there even without a storm…" He went on to say "We're going to approach this rebuilding effort with an emphasis on affordable housing." Families around the state will be counting on this promise to be fulfilled.
Looking ahead to recovery and rebuilding
Ahead of Hurricane Florence's landfall, President Trump issued disaster declarations for North Carolina and South Carolina and an emergency declaration for Virginia. This has authorized federal disaster assistance, including coordination from FEMA, to help supplement state, local and tribal emergency response and recovery efforts.
FEMA teams are on the ground in the affected states and a list of resources are available here. The National Guard, the US Coast Guard, the US Army, FEMA teams, NC emergency management personnel, nonprofits and thousands of volunteers are working to help safely evacuate and shelter people. Individual assistance programs for families and public assistance for state, local and tribal entities are available.
In the weeks to come, Congress will also need to step in with supplemental disaster aid, as has happened with previous major disasters. It will be critical for this aid to flow quickly to the communities that are hardest hit and have the fewest resources to cope. A major concern is that the public housing stock in many locations has taken a hard hit. Affordable housing is already scarce, and this hurricane will make it even more difficult for families looking for a safe place to live. Unfortunately, in past storms a lack of affordable housing has forced some to leave communities and move far away; or incur hardships because they had to move to places further from jobs and schools. The Department of Housing and Urban Development's (HUD's) Community Development Bock Grant-Disaster Recovery (CDBG-DR) funds are critical to rebuilding resilient and affordable housing where people need it most. Congress must allocate adequate funds to this program.
FEMA funding is also vital for communities' rebuilding efforts. It's important to ensure that rebuilding is done in a resilient way that will help protect homeowners and communities from future storms. This is also a good time to make funding for voluntary home buyout programs available so homeowners who live in areas at high risk of flooding can choose that option and move to safer ground. Recovery will take a long time and we can't lose sight of that reality even after the storm drops out of the headlines. Yesterday marked one year since Hurricane Maria hit Puerto Rico—and it's clear there is still so much to do to help communities get back on their feet. Some families in North Carolina were still waiting for federal assistance in recovering from Hurricane Matthew when Florence hit.
A resilient future must take account of climate change and equity considerations
It's unmistakable that climate change is contributing to the risk of more intense hurricanes and worsening flooding. Higher sea levels and increased heavy rainfall exacerbate the risks of catastrophic flooding. The human and economic toll of these extreme events is high. And even in the absence of storms, sea level rise is worsening tidal flooding and is a grave risk to coastal communities.
Meanwhile, as we've seen repeatedly with recent hurricanes—Katrina, Harvey, Maria, Irma and now Florence—low income communities and communities of color bear the brunt of the harmful impacts in the wake of disasters.
As communities recover and rebuild from these terrible disasters, we must keep these facts front of mind and ensure that we're building for a more climate-resilient future for all.
If you would like to support local recovery efforts for Hurricane Florence, please consider these resources assembled by frontline communities on the ground: A Just Florence Recovery Thank you.